HALF-DAY


WHALE & DOLPHIN WATCHING IN PONTA DELGADA

Every whale and dolphin watching tour is unique, we never know what species we will see.

The best season for whale watching in the Azores is Spring. Indeed, during this time of the year, we can spot some of the biggest animals in the world such as blue whales, fin whales and Sei whales. However, many dolphins and the endemic sperm whales are resident species of the Azores and that is why we see them year-round. We can also see birds, turtles and other marine wildlife in our deep blue waters.

The tour starts in our shop in Ponta Delgada harbor. At the beginning, our biologists and guides will do a briefing about the species that you might see during the tour. They will also talk about the whale watching rules we have to respect while approaching a cetacean for the animals' well being. After the briefing, we are ready to go on an offshore adventure. The staff will warn you when they see something in the water and give some explanations and details about the specific species.

Nature offers no guarantee, it happens sometimes that we don't see anything. But no worries, in the case you don't see any cetacean, you will be able to book another tour for free with us on another day!

You will stay on the ocean looking for aquatic life for about three hours before going back to the harbor. We will welcome you back in our shop with some local tea.

Our biologists will see and edit the photos that they took during the trip and you will be able to see them on our blog later during the day. If we have spectacular pictures, they might also be on our Facebook Page and Instagram account.
tour highlights


GET READY

Our Catamarans are the most comfortable vessels with lots of room.
Perfect for families, seniors and people with reduced mobility.

Check our fleet
tour highlights


BIODIVERSITY

In the Azores you can see marine life like sea birds, turtles and different species of fish.
The archipelago is the perfect place for wildlife tourism.

Learn more about the cory's shearwaters 
Location
Ponta Delgada, South Coast of São Miguel Island
Duration
Approximately 3 hours
Tour Rates
From 55€ (+12 years old)
27.5€ Children (6-12 years old)
Free for 0-5 years old
Daily Departures
9:00am & 1:30pm
Check In Times
8:30am & 1:00pm
Vessel Types
Zodiac or Catamaran
Minimum Age
Recommended to all ages.
For children and senior people, we strongly advise the catamaran.
Tour Details
Pre-tour briefing
Raincoat and pants

 if necessary

Life jacket 

on the zodiac boats

A marine biologist or nature guide aboard
Refreshment after the trip

(local tea)
Recommendations
All bookings for whale watching trips will automatically be directed to our catamarans. If you want to do a whale watching tour on one of our zodiac boats, please inform it while booking.

The duration of this tour can change according to the weather, species location and/or

other factors.

This tour should not be booked if you have compromises right after it 

(a flight, another tour…
Comfortable clothes and shoes
Jacket
S

unscreen

,

 towel, and hat
Backpack, water, and snacks (bring your own reusable water bottle)
Q: How do I get to São Miguel?
A: There are flight connections from Lisbon, Porto and other main capitals.
Q: I have back problems but I would like to go on a whale watching. Can I do this tour?
A: Futurismo Azores Whale Watching in São Miguel Island has catamarans and zodiac boats. Catamarans are more spacious and comfortable boats. They are equipped with toilets on board. We recommend that you have some medical advice before this experience.
Q: I am pregnant and would like to do whale watching. Is it safe?
A: In this case, we advise to book on our the catamarans, which are more comfortable and stable boats.
Q: What if I am seasick?
A: We strongly advise avoiding eating anything overly spicy, acidic, fatty or dairy before the tour. Don't overeat but come well fed. Once on the boat, look at the horizon and get some fresh air. If you feel bad, the staff on the boat will be here to help you.
Tour Gallery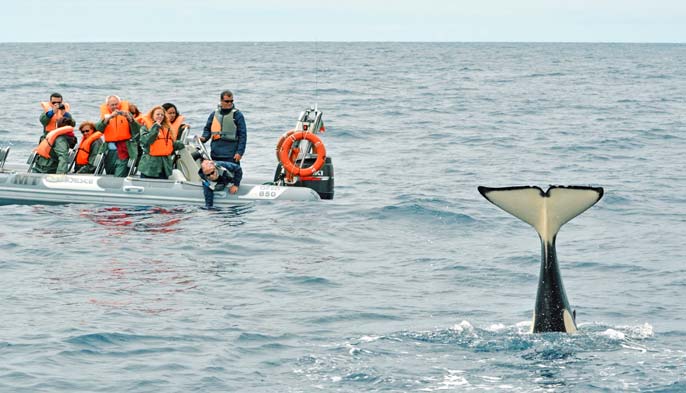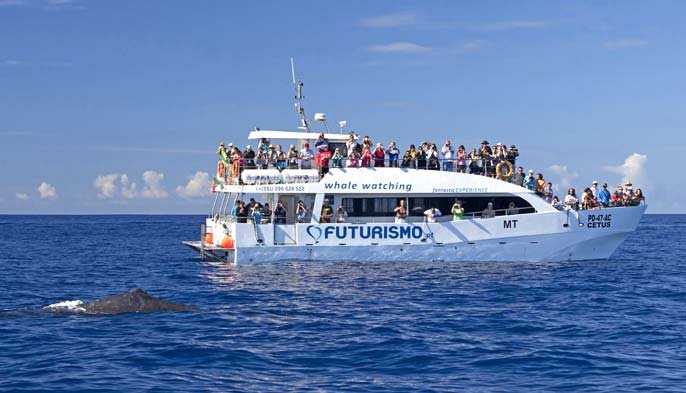 Species You Might See
Tour Bookings
"EXCELLENT WHALE WATCHING TRIP"
"Our experience during the whale watching was excellent and all of the staff on the boat were highly knowledgeable and helpful."
Evehopley – Tripadvisor
"HALF DAY WHALE WATCHING "
Perfect trip led by very knowledgeable staff Fast catamaran able to reach multiple groups of whales and dolphins.
Alexandria – TripAdvisor
Explore More


Recommended Tours