HALF DAY


WHALE & DOLPHIN WATCHING IN PONTA DELGADA

Every whale and dolphin watching tour is unique, we never know what specie we will see.
Dolphins and Sperm whales are the resident species of the Azores and that is why we see them year-round. We also see birds, turtles and other marine wildlife in our deep blue waters.
During spring time we can also spot some of the biggest animals in the world such as blue whales, fin whales and Sei whales.
tour highlights


GET READY

Our Catamarans are the most comfortable vessels with lots of room. Perfect for families, seniors and people with reduced mobility.
tour highlights


PARADISE IN ATLANTIC

Welcome to a true whale sanctuary! Start your adventure from the Azorean capital, Ponta Delgada.
tour highlights


BIODIVERSITY

In the Azores you can see marine life like sea birds, turtles and different species of fish. 
Location
Ponta Delgada, South Coast
Duration
Approximately 3 hours
Daily Departures
9:00am & 1:30pm
Check In Times
8:30am & 1:00pm
Vessel Types
Zodiac, Catamaran
Minimum Age
Recommended to all ages. For children and senior people we strongly advise the catamaran.
Tour Details
Recommendations
Bring comfortable clothes and shoes
Jacket
Sun-blocker, towel, and hat
Bring your backpack, water, and snacks (bring your own reusable water bottle)
The duration of this tour can change according to the weather, species location and/or others
This tour should not be booked if you have compromises right after it
Included
Pre-tour briefing
Raincoat and pants
Life jacket
A marine biologist or nature guide aboard
Refreshment after the trip
Q: How do I get to São Miguel?
R: There are flight connections from Lisbon, Porto and other main capitals.
Q: I have back problems but I would love to go on a whale watching. Can I do this tour?
R: Futurismo Azores Whale Watching in São Miguel Island has catamarans and zodiac boats. Catamarans are more spacious and comfortable boats, designed specifically for this practice. They are equipped with toilets on board. We do recommend you to have some medical advice before this experience.
Q: I am pregnant and would like to do whale watching. Is it safe?
R: In this situation, we advise the catamarans. The catamarans are more comfortable and stable boats.
Tour Gallery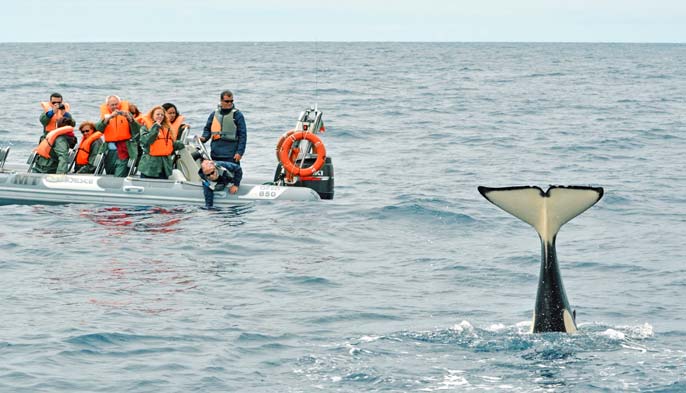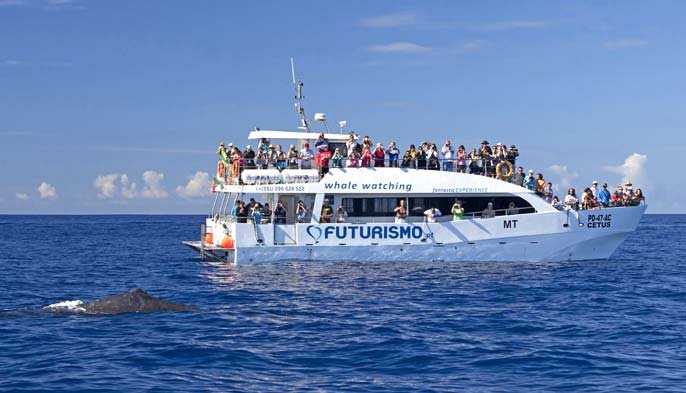 Species You Might See
"EXCELLENT WHALE WATCHING TRIP"
"Our experience during the whale watching was excellent and all of the staff on the boat were highly knowledgeable and helpful."
Evehopley – Tripadvisor
"HALF DAY WHALE WATCHING "
Perfect trip led by very knowledgeable staff Fast catamaran able to reach multiple groups of whales and dolphins.
Alexandria – TripAdvisor
Explore More


Recommended Tours