HALF-DAY


WHALES & DOLPHINS
IN PONTA DELGADA
SPOT


GIANT WHALES

This is one of our most popular tours and for good reason! The whale and dolphin watching off Ponta Delgada is hard to match. Departing from the south coast of São Miguel Island, we'll be looking for seasonal and resident whales journeying along our coast.

The adventure begins at our comfortable facility at Ponta Delgada harbor. You'll meet our biologists and guides and learn about the different species you might spot during your tour. They'll also explain how to respect the whales'
environment as well as important rules to ensure the animals' safety and wellbeing.

Every whale and dolphin watching tour is unique, we never know what species we will see.
SETTING SAIL
Then it's time to set out for some whale watching! As we navigate the rich waters of the Atlantic, the experienced crew will alert you when they make a sighting. It's always fun as our experts share the fascinating details of these great marine animals now splashing about before us.
Your tour from Ponta Delgada is a three-hour journey, searching for more whales and dolphins, as well as sea birds and turtles. Every tour is unique, with its own weather and sea characteristics – we can never predict exactly which
species we'll see. If you're hoping to spot the largest breeds like blue, fin or Sei whales, booking a tour in Spring is your best bet. See our article about the best season for whale watching in the Azores for more details.
But don't forget many types of dolphins and sperm whales are resident year-round in the Azores, so we can see them all 12 months.
However, nature charts its own course and if we don't make a spotting, not to worry! You are assured with the Futurismo Guarantee – you can book another tour with us – absolutely free!
Safe Harbor
As our tour winds down, we'll head back to the harbor, hopefully with lots of memories and photos. We'll welcome you back to our shop for some local tea and to share some of our experiences.
Our biologists are also wonderful photographers and they'll edit their photos of your tour, putting them on our blog for your viewing later in the day. If you took some great shots, they could end up on our Facebook Page and Instagram account.
tour highlights


GET READY

Our Catamarans are the most comfortable vessels with lots of room.
Perfect for families, seniors and people with reduced mobility.

Check our fleet
tour highlights


BIODIVERSITY

In the Azores you can see marine life like sea birds, turtles and different species of fish.
The archipelago is the perfect place for wildlife tourism.

Learn more about the cory's shearwaters 
Location
Ponta Delgada, South Coast of São Miguel Island
Duration
Approximately 3 hours
Tour Rates
From 60€ (+12 years old)
30€ Children (6-12 years old)
Free for 0-5 years old
Daily Departures
9:00am & 1:30pm
Check In Times
8:30am & 1:00pm
Vessel Types
Zodiac or Catamaran
Minimum Age
Recommended for all ages.
For children and seniors, we strongly advise the catamaran.
Tour Details
Pre-tour briefing
Raincoat and pants

 if necessary

Life jacket 

on the zodiac boats

A marine biologist or nature guide aboard
Refreshment after the trip

(local tea)
Recommendations
All reservations for whale watching trips will automatically be booked on our catamarans. If you would like to take a zodiac boat instead, please inform us at the time of your booking.

The duration of this tour can change according to the weather, species location and/or

other factors.

Allow plenty of time for your tour. Please don't book if you have any commitments right after such as a flight, etc.
Comfortable clothes and shoes
Jacket
S

unscreen

,

 towel, and hat
Backpack, water, and snacks (bring your own reusable water bottle)
Q: How do I get to São Miguel?
A: There are flight connections from Lisbon, Porto and other main capitals.
Q: I have back problems but I would like to go on a whale watching. Can I do this tour?
A: Futurismo Azores Whale Watching in São Miguel Island has catamarans and zodiac boats. Catamarans are more spacious and comfortable boats. They are equipped with toilets on board. We recommend that you have some medical advice before this experience.
Q: I am pregnant and would like to do whale watching. Is it safe?
A: In this case, we advise to book on our the catamarans, which are more comfortable and stable boats.
Q: What if I am seasick?
A: We strongly advise avoiding eating anything overly spicy, acidic, fatty or dairy before the tour. Don't overeat but come well fed. Once on the boat, look at the horizon and get some fresh air. If you feel bad, the staff on the boat will be here to help you.
Tour Gallery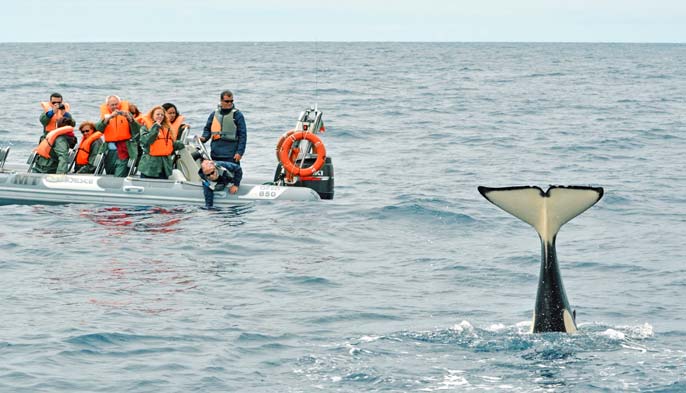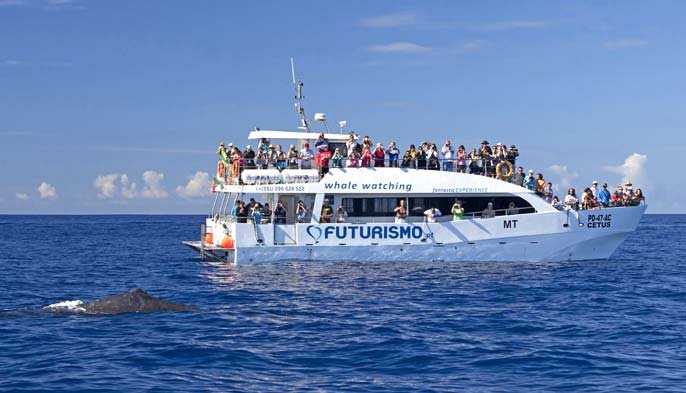 Species You Might See
Tour Bookings
"FANTASTIC WHALE WATCHING TOUR"
"We had a great time on the Futurismo Whale Watching tour. […] The crew consists of marine biologists who are very passionate about their work and protecting the animals: everything is done in a manner that doesn't disturb them. […] Definitely a recommended activity."
VRomeijn – TripAdvisor
"HIGHLY RECOMMENDED!"
"This was one of the best experiences we had on São Miguel! We were with our baby (almost 9 months), and even he had a blast. […] The dolphins were playing in front of the boat, and Futurismo has a lot of knowledge and respect for these wild animals. I would definitely recommend Futurismo!"
Yvonne B – TripAdvisor
"WELL OPERATED WHALE WATCHING TOUR"
"We scheduled another trip after the first because it was so fun and enjoyable. Their boats are in very good condition, the staff is friendly and knowledge. They make safety a priority. The price is a good value for the grata time they deliver. Will definitely book another tour when we return to Ponta Delgada."
MMGWare – TripAdvisor
Explore More


Recommended Tours