At Futurismo we do much more than providing whale watching tours for the ones who want to see and learn about the amazing marine biodiversity that we have here in the Azores. In every trip we do, Futurismo biologists' collect data on the different cetacean species we sight, from GPS location of such sightings, to date and time, photos and behaviours. All the information collected will be used to further complement our knowledge and understanding of these species and contribute to the scientific community by providing information from this area of the globe.
Laura Benítez, a marine biologist and researcher from Yubarta Foundation, Colombia, did an internship with Futurismo for the last three months. In these months, she updated Futurismo's Humpback Whale catalogue, with pictures from São Miguel and Pico islands. Laura was able to complete the catalogue with 103 humpback whales that have passed by the islands.
Humpbacks are photo-identified by their dorsal fins and flukes. An individual can be identified by the shape and nicks in its dorsal fin, by the coloration patterns of its fluke, by scars and body marks, and by any other specific characteristic that distinguishes one individual from the others.
Recording such information on photographs together with the sighting data (GPS location, date and time, behaviours, …), allows to better understand species biology and ecology such us population dynamics, social structure, and local and global migratory patterns. For example, through photo-identification, Futurismo's biologists' team together with Laura were able to understand that humpbacks can be mainly found in the Azores between the months of March and June. Also, although most of the animals are sighted alone, groups of two or more humpback whales, groups of an adult and a juvenile, juveniles alone and even a female with 4 other adults were already sighted here.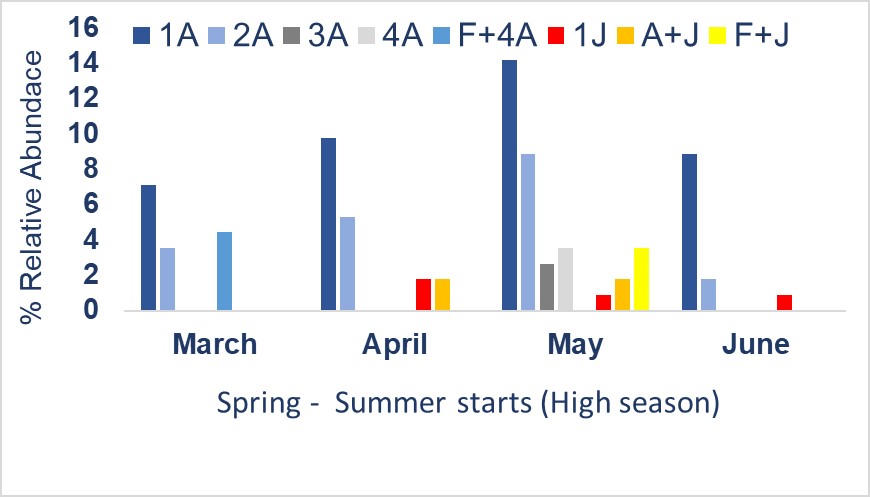 What does this mean? We do not know YET! What we do know is that North Atlantic humpbacks spend the cold winter months of the northern hemisphere in warmer temperate and subtropical waters, where they breed and give birth. As summer arrives, they start their way back to the feeding grounds up in the Northern Atlantic Ocean. We also know that certain behaviours are more common in the feeding grounds compared with the breeding grounds and vice-versa. For example, mating, nursing, breaching, singing or competitive and agonistic behaviour are primarily seen on breeding grounds, while co-operative feeding behaviour is typically found in feeding ones. However, humpbacks breach and sing in feeding grounds as well. In the Azores we have registered some of those behaviours, such as breaching and feeding. Once again, what does this mean? Once again, we do not know YET!
But this is not everything. We know that some of the whales we sighted here were already re-sighted, this means that some have been sighted more than once. Some here in the Azores, not only in São Miguel and Pico islands, but also one in Terceira island. But also, by trading the information collected with other humpback whale scientists and experts, we were able to identify that certain individuals sighted here in the Azores, were also sighted in Cape Verde, Iceland, Norway and even Newfoundland or north of Russia.
Azores are a volcanic archipelago in the middle of the Atlantic Ocean, and a place of infinite wonders. We do not know exactly what humpbacks do here, is Azores a stopover for feeding, resting or communication, before continuing their migration? How does this species use the habitat? How long does it spend here? Where exactly do they go? Cape Verde, Canarias or Caribbean? Iceland, Norway, Greenland or Canada?
There is so much that we do not know about our oceans, so much more to discover about these ocean giants and their presence in the Azores. Can you find a better reason for Futurismo biologists to do this work???
A big thanks to Miranda van der Linde and Rui Santos who developed the first version of Futurismo's humpback whale catalogue.
More info? See the webinar and presentation from Laura Benítez below!